This article covers how to add new users to your portal and assign them suitable roles. This is done when setting up a new portal or if you need to add new users. To share documents and meetings, you first need to add the users to the Board Portal.
Setting up user roles
To get started with setting up your portal and add users, you need to first set up user roles. User roles grants access to the different areas of use in the portal, and a user may have access to multiple user roles.
Read more about how to set up user roles here
Once the user roles are set up and given access, you can find the areas of use in the grey menu to the left in the portal.
Add users
Here you can add new users to the portal, and you can choose to add single or multiple users in one procedure. When adding a single user all relevant personal information needs to be filled out before the invitation can be saved or sent via e-mail. For multiple users only e-mail addresses are needed, and the user can fill in the missing information during registration.
For Board Portal we recommend adding single users to ease the registration process.
Add a single user
Add a user by selecting Add single user and fill in the full name and e-mail address. The mobile number needs to be in international version.
Select one or more user roles that you would like to give the user access to. A user will by default be able to access all documents and folders in the areas of use that you have given access to.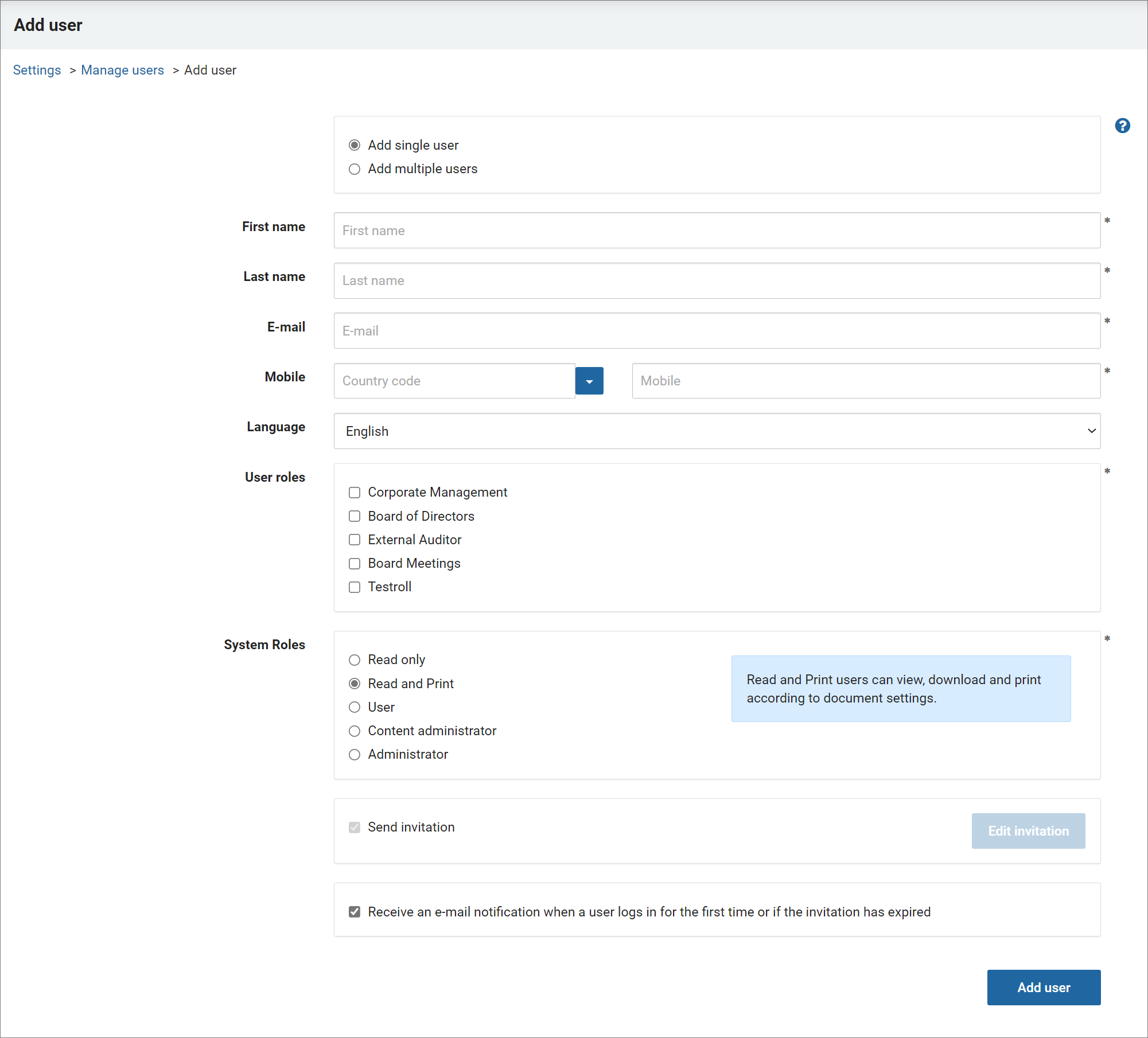 Assign system role
The system role decides the rights a user has in a portal. Select the system role that is most suitable:
Read Only: Readers can view documents in viewer. Download and print of documents is restricted for all documents
Read and print: Read and Print users can view, download and print according to document settings
User: Users can view, download and print according to the document settings. They can also contribute by uploading files and changing their own content
Content administrator: Content administrators have full control over all content in folders they have access to. They cannot make changes to users' access and roles
Administrator: Administrators have full control over content and Settings. They have the ability to add and change users' access and roles
Register new user(s)
The option to send the invitation is selected by default. If you do not want to send out an invitation to the new user(s) immediately, you may remove the option and save the invitation without sending the invitation e-mail when you press Add user(s).
You can then find the list of the user(s) under Settings> Manage users and permissions > Unregistered users. When you want to invite the user(s) to the portal, you can activate and send the invitation from here.
Otherwise you press Add user(s) to register the user and send invitation e-mail.
It is not possible to notify users of meetings or documents until they have accepted the invitation and registered in the portal.
If users experience issues with receiving the e-mail it may have been incorrectly identified as spam and usually found in the spam-folder.
Contact Admincontrol support if you need any assistance.
Read more about how to manage users and permissions here.
Add multiple users
Add multiple users by selecting Add multiple users and fill in the e-mail addresses separated by a semicolon (;). When adding multiple users, it is not possible to add other information than the e-mail address. Make sure all the e-mail addresses are valid. Select one or more user roles from the list to proceed.